22 Jump Street Dorm Essentials
If you watched 22 Jump Street, you know that Jenko (Channing Tatum) and Schmidt (Jonah Hill) were headed back to Metro City State College living in dorm 322.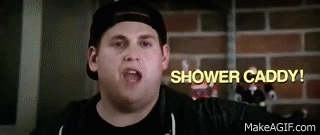 One of the first things they did as they moved into their dorm rooms was unpack their own college essentials. If you haven't seen it, you can relive the scene below:
If you want to get our official student curated list of dorm essentials, then don't forget to check out our full college packing checklist, or check out the 22 jump street list below! What are the dorm essentials from 22 jump street?
Jenko (Channing Tatum) and Schmidt (Jonah Hill)'s dorm checklist from 22 jump street included:
1. Pop Up Hamper
This 22 jump street white pop up hamper is great for dirty clothes in the dorms, and walking to and from the laundry machines.
2. Blue Shower Caddy
This blue shower caddy is a 22 jump street dorm essential for Schmidt (doug).
5. Red College Drinking Shirt
While not the original beer pong design from the movie, let everyone know you drink with this shirt.
9. Comforter
While your comforter may not get washed, you can atleast match your bedding with this set.